Enter NOW For
March 2018
One lucky Grand Prize
winner will receive:
A special getaway with
the Secret Garden Inn
and the SB Sailing Center
(Total value approx. $200)
Share us on Facebook

Double your chances!
Click Here To Enter
Please include your name,
FULL mailing address
& phone number
Good Luck!
You will also be
entered in our
Monthly Restaurant
Prize Drawings
Additional contest sponsors:
Mission Ice Cream
Santa Barbara Zoo
SB Museum of Art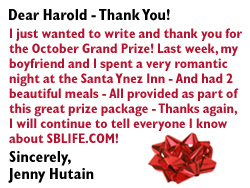 Contest Rules:
*All SBLIFE.COM prize packages will be awarded each month through June 2018. March Grand Prize includes gift certificates with the Secret Garden Inn and the Santa Barbara Sailing Center - Total prize package value is approx. $200. Apple Inc. is not involved in any way with this contest or prize distribution. All other prizes will be awarded at the end of each month beginning January through June 2018. Only one entry per month per person will be accepted. No substitutions will be made for the prize, except at the discretion of the sponsors, who may substitute prizes of equivalent value. Additional monthly SBLIFE.COM prize values will not exceed $40.00. Random drawing will be held at the end of each month through June 2018 by the SBLIFE.COM Contest Team Members. No correspondence can be answered. The winner releases the sponsors from all liability for damage in connection with the winner's use of the prize goods or services. The winner consents that the sponsors or the SBLIFE.COM Contest Team may, without compensation, use the winner's name, written text and other likeness, biographical information or statements concerning this contest for the purposes of advertising and promotion. All decisions are final and are subject to verification. SBLIFE.COM Team Members and their families are not eligible. Odds of winning are determined by the total number of entries received. Taxes and gratuities are the responsibility of the winner. All prizes are guaranteed to be awarded. Void where prohibited by law. All federal, state and local laws and regulations apply.